M-Commerce (Mobile Commerce)
Mobile Commerce
What is Mobile Commerce (M-Commerce)?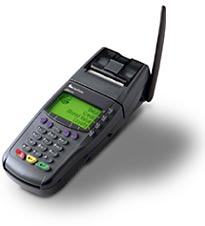 Where E-Commerce uses the Web on a computer screen to run transactions M-Commerce uses much smaller screens on mobile devices. Mobile Commerce connects business and customers via the Internet through wireless devices, cell phones, Palm Pilots, personal digital assistants, handhelds and basically any wireless device. It is important that your payment processing company provide a virtual terminal that can be viewed with a Palm Pilot or cell phone. Wireless Transaction Demo
Many businesses in various mobile industries may find wireless credit card processing very appealing. These might include those involved in maintenance or delivery services to homes, towing companies, food delivery, transportation services, tradeshows, etc.
With mobile commerce, you don't need a phone jack or electrical outlet, and transactions basically take only a few seconds to complete.
Wireless credit card processing terminals are available in retail form (to swipe cards) or for real-time keyed in transactions.
Tip: You as a merchant will ALWAYS save money if you swipe rather than key in transactions.
Data-Time Mobile Service
Pretty soon most wireless companies will be charging their customers an extra fee for data-time instead of air-time, which means that you can have a dedicated connection to the Internet with your cell phone and only be charged when you send data. This allows a businessman to stay online with his wireless device connected to his payment terminal at all times, and only be charged when he keys in a transaction.
Remember, if your retail terminal or your computer is tied up, you can use the wireless option to supplement these other processing systems.
With ECHO you can access their virtual terminal (ECHOnet) from anywhere with your mobile device and you don't see all the other information from the Website, just the important information that you need for your credit card and check transactions, and you can do both credit card sales and check verifications in real time using a wireless handheld like a Palm Pilot from anywhere that you have wireless service (the palm has to support https or secure SSL pages). You can also do it with a regular credit card terminal. Call Robb at ECHO and he can tell you how to do that (800-233-0406 x3109).
Wireless Terminal Statistics (Quick Facts)
Last year (2001) the amount of wireless terminals that were shipped worldwide were Over 470,000 units:
1. Ingenico - Over 285,000 Wireless Terminals
2. SchlumbergerSema - Over 38,000 Wireless Terminals
3. Sagem - Over 36,000 Wireless Terminals
4. Thales - Over 23,000 Wireless Terminals
4. Lipman - Over 22,000 Wireless Terminals
Mobile Links
Commercial Industry:

Alltel URL: http://www.alltel.com/
AT&T Wireless URL: http://www.attws.com/
Cingular Wireless URL: http://www.cingular.com/
Voicestream URL: http://www.voicestream.com/
General Dynamics Decision Systems URL: http://www.gd-decisionsystems.com
Verizon Wireless URL: http://www.verizonwireless.com/
Harris Corporation URL: http://www.harris.com
Globalstar, Inc. URL: http://www.globalstar.com
Iridium, Inc. URL: http://www.iridium.com
Motorola, Inc. URL: http://www.mot.com/
Qualcomm, Inc. URL: http://www.qualcomm.com/govsys/
Government:
Federal Wireless Users Forum (FWUF) URL: http://www.antd.nist.gov/fwuf/
Joint Wireless Working Group (JWWG) URL: https://www.jwwg.net/
Secure Terminal Equipment (STE) URL: http://ste.securephone.net/
Reference:
GSM Countries and Service Providers URL: http://www.gsmworld.com
[an error occurred while processing the directive] [an error occurred while processing the directive]
[an error occurred while processing the directive]